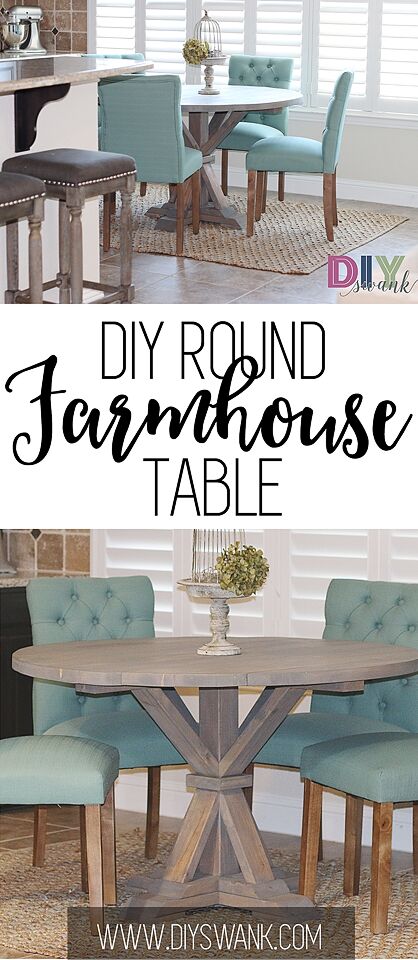 Hey friends! This post is one that is long overdue. I misplaced the memory card that had all the pictures I took! I actually built this DIY round farmhouse table about 6 months ago. We moved into our house in May of 2015 and our breakfast nook was empty for about 8 months. I kept looking for a table and just couldn't find one I liked or that was budget friendly! I found this Archer Round Dining Table at Zgallerie and fell in love. The price is $899. I built this one for around $85! That does not include chairs, just the table. I built this one for around $85! This post contains some affiliate links.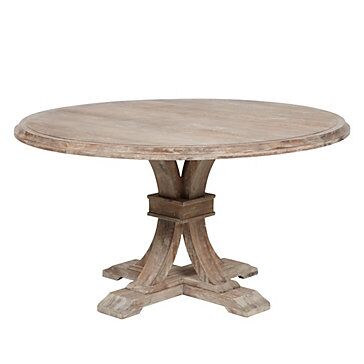 While, I normally would have gone out and bought the table I remembered seeing a similar DIY table plans over at the Design Confidential. The size of the Archer table is 54″ and the Design Confidential had plans for a similar round table that were for a 48″ table. The 48″ size also worked better for my space. I didn't want the area to be cramped especially since it would be right next to the back door.
I followed the instructions from the plans that I found. When I got to cut to the top I made a protractor so my circle would even. This was the easiest way I found to make my marking since I planned to cut with my jigsaw. I wanted to make sure I had a nice guide.
I measured until I found the center of the table. Using a 1×2(scrap) I placed a tiny nail at the center by just barely tapping it into the top of the table. I also pre-drilled a hole 24″ from where I place the nail. This gave me a place to put my pencil.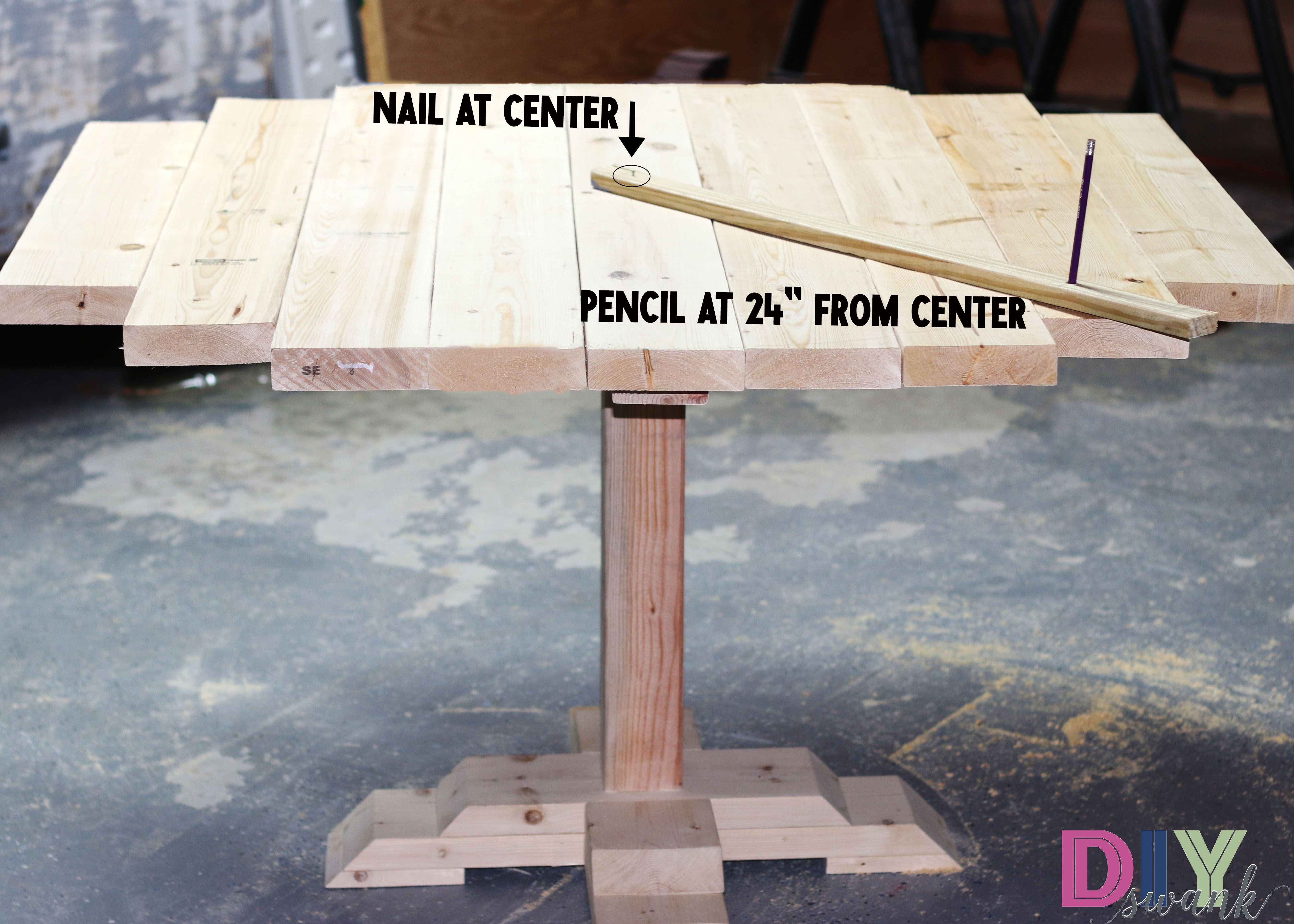 The next step I did was used the pencil and made my mark around the top. It worked great! I've seen people use a router to cut the of the table by using a similar process. I don't have a router and found this an expensive way to make my markings.
Once I had my circle marked, I used a jigsaw and cut off the extra pieces until I had a round top.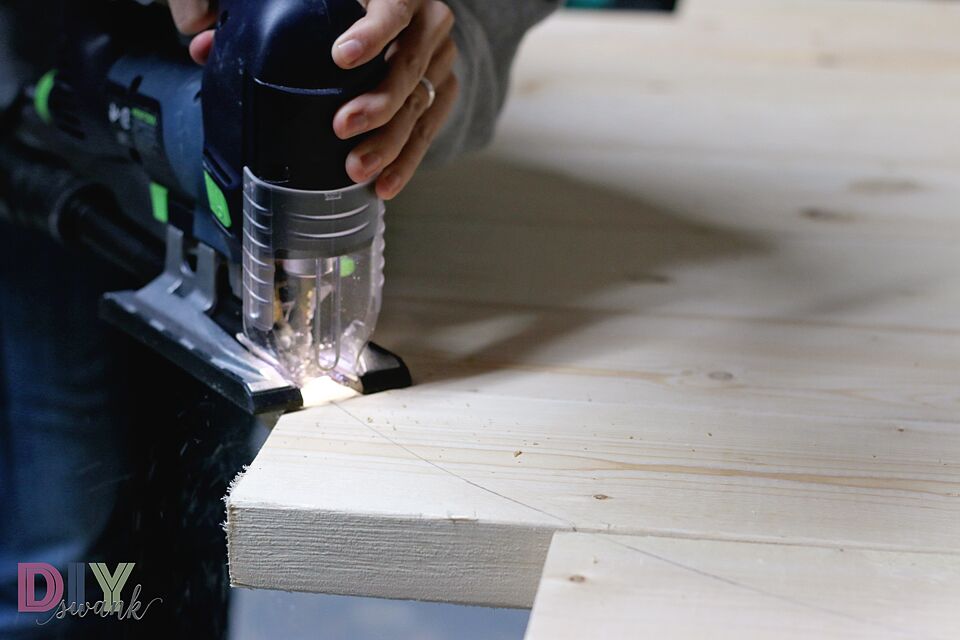 Another thing I added was a 1×2 to frame out the middle of the table legs.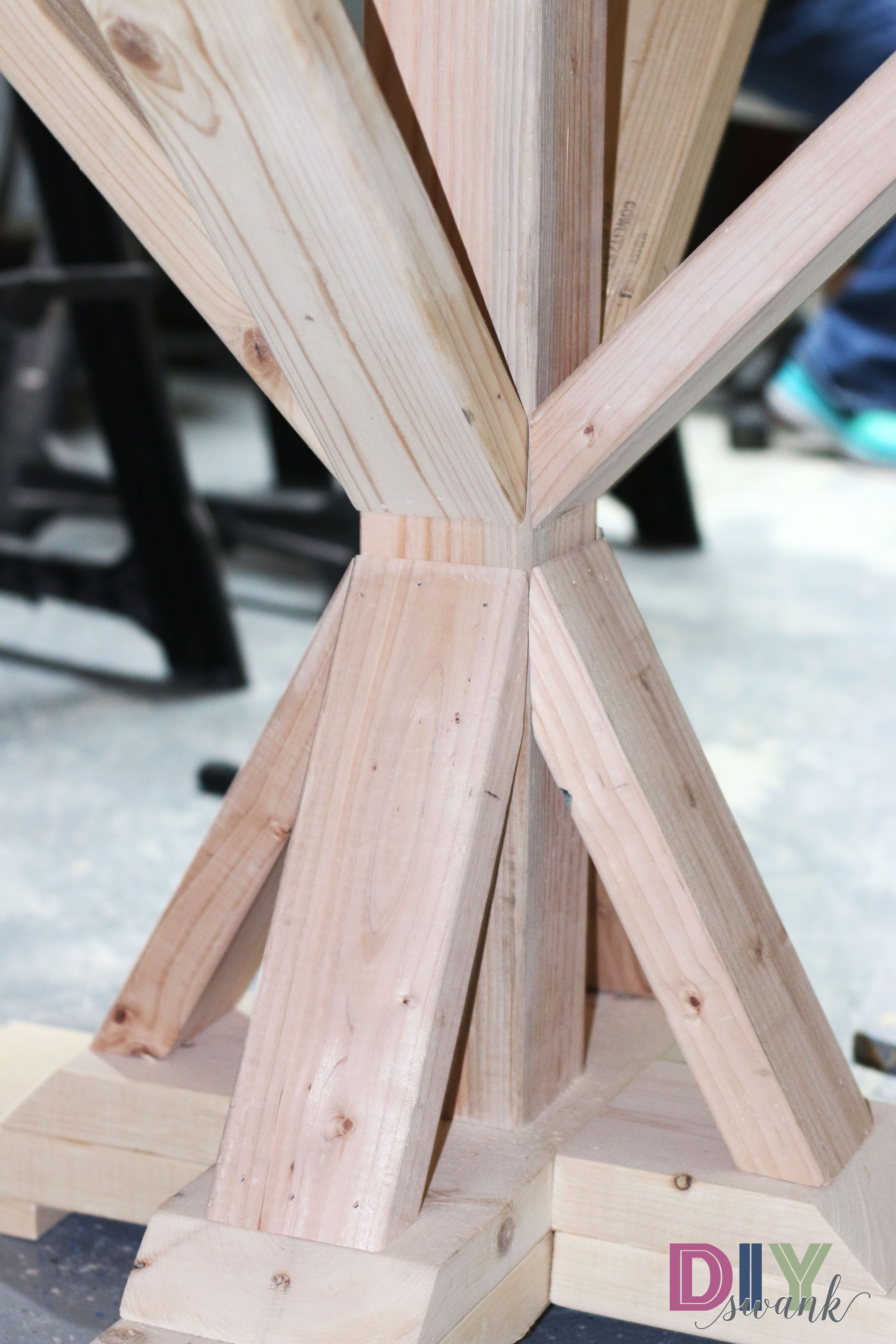 I don't have exact measurements for the piece I cut but I did make them a little longer than the 4×4 center piece. The 1×2's wrap around the angled boards as well so you will need to measure based on that. I cut the 4 (1×2) boards a 45 degree angles.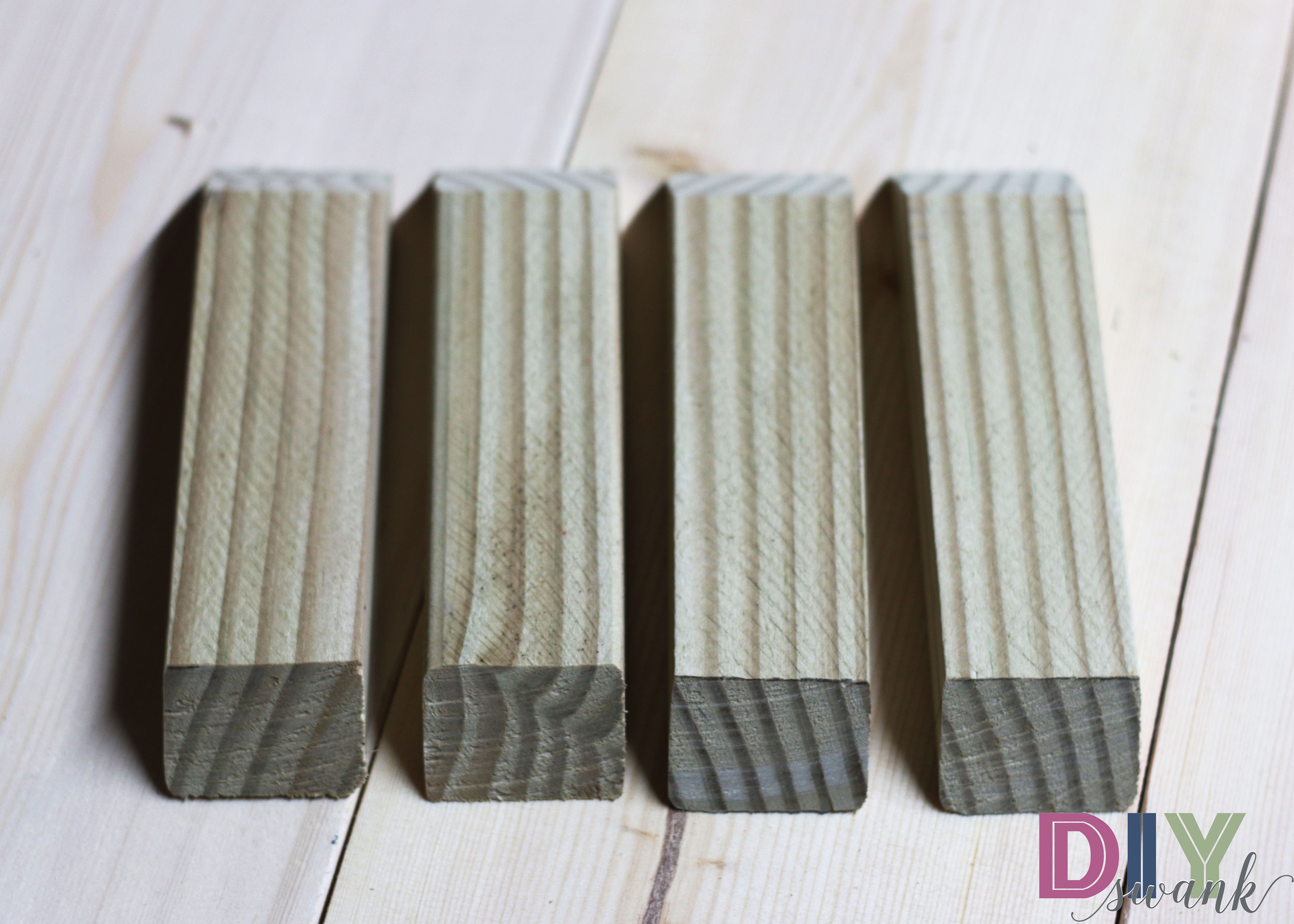 Then I used wood glue to make a square around the center with the 1×2's. I used clamps to hold them in place and used my nail gun to attach them to center 4×4.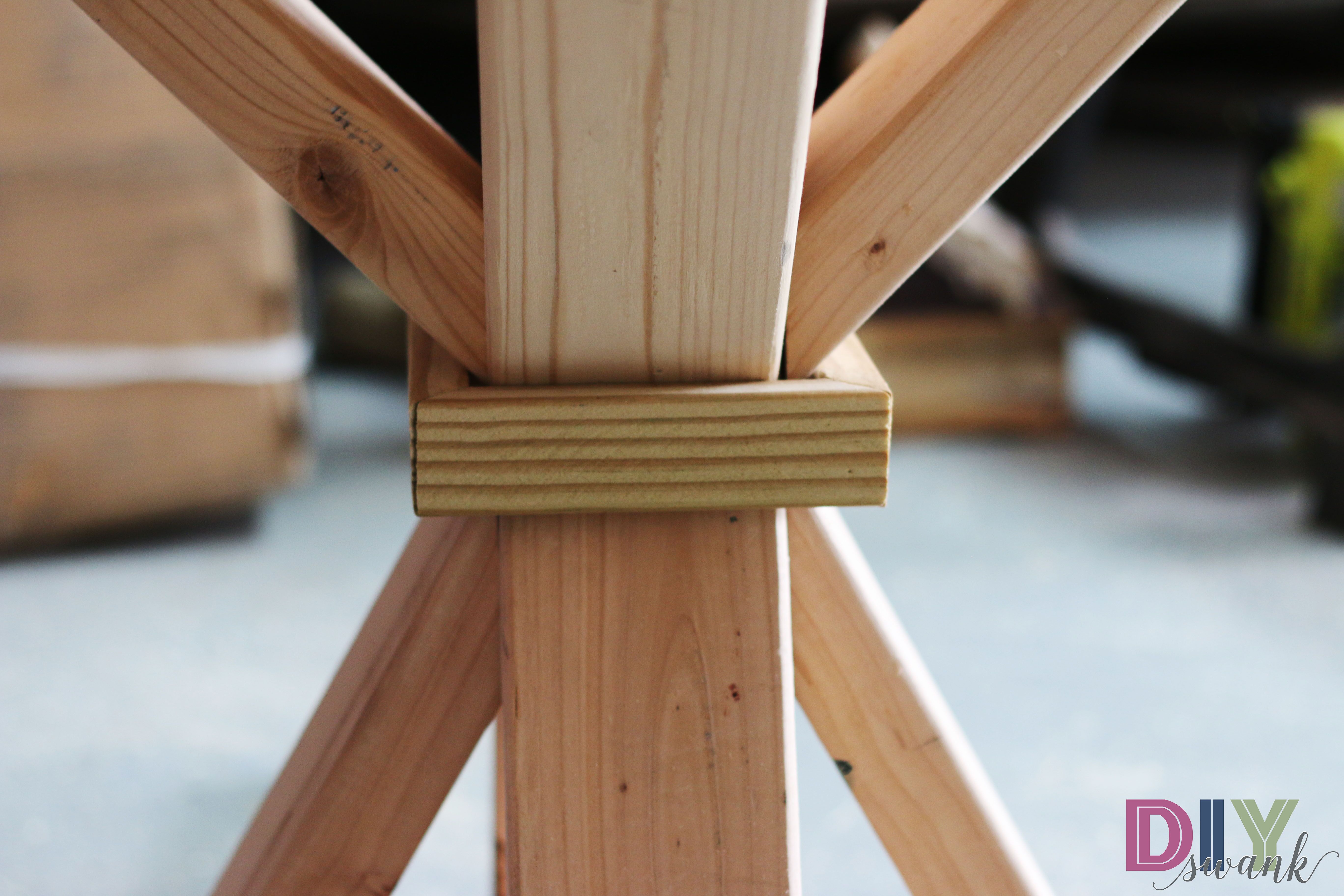 For the finish I used two different stains to get the look I was going for. First I used:
First, I applied one coat of Weathered Oak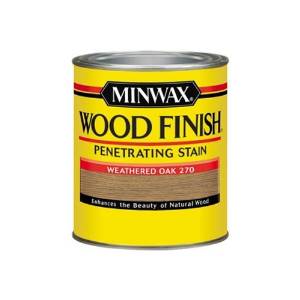 I let that dry and added a coat of Classic Gray As I applied the Classic Gray, I wiped off with a paper towel.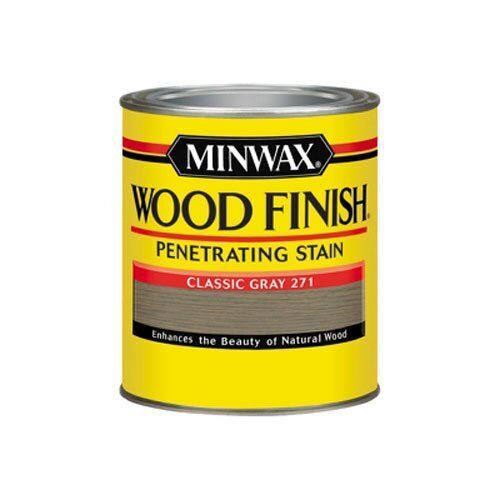 For the top coat I used a Matte Poly. Here's a closeup of the top.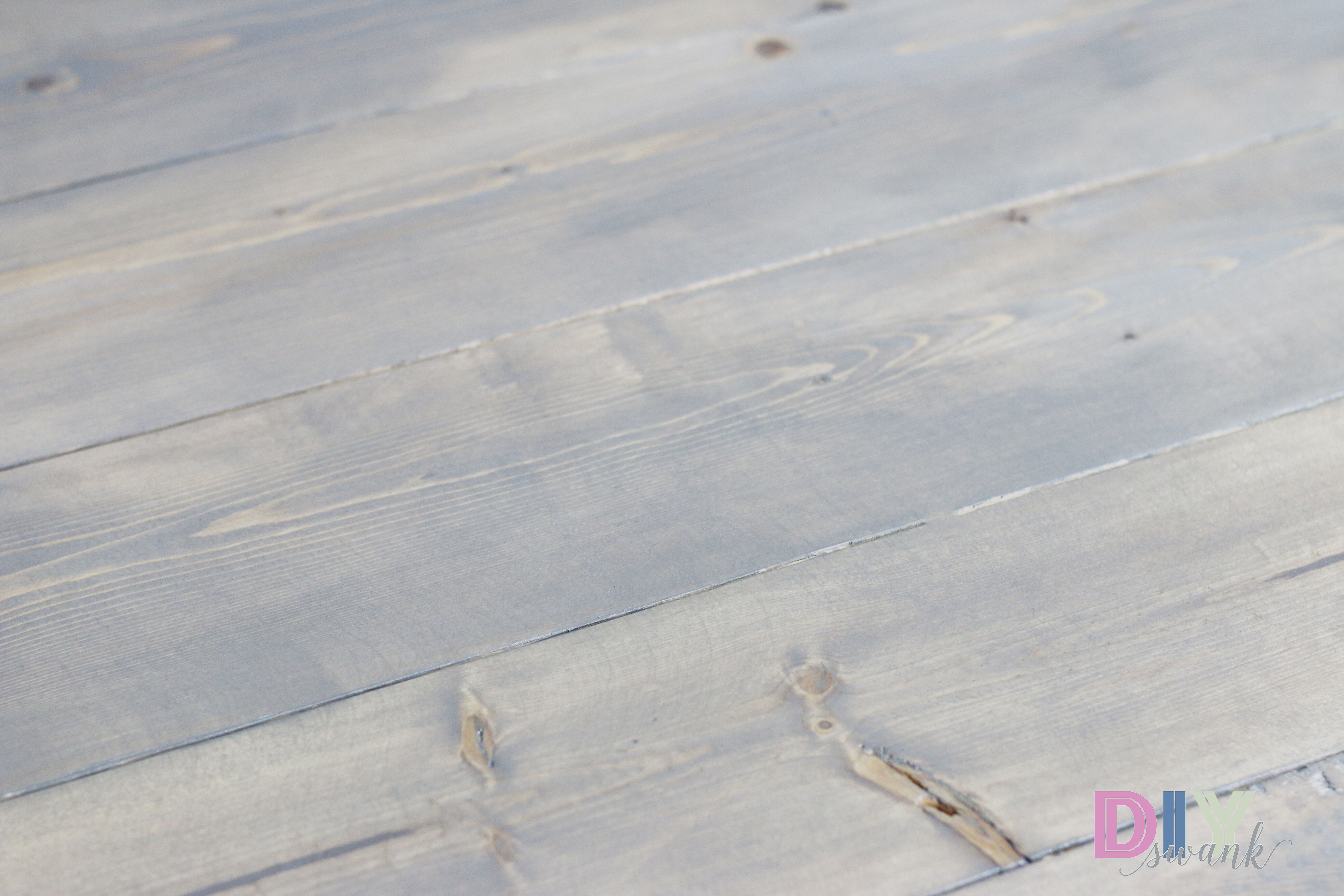 I love the way it turned out and I saved a ton! You can't beat an $85 table, right? I bought the chairs at Target when they had a 30% off Furniture Sale!

-Tools I used-
You can start by gathering some great ideas from the best of Farmhouse Friends Team! See each blogger's project below!
Now let's see what the rest of our Best of Farmhouse Friends Team! has come up with!
Click their names or photos below to see each blogger's project!
Angie @ Knick of Time
Susan @ Love of Home
Julie @ Love My Simple Home
Laurie @ Vin'yet Etc.
Paula @ Sweat Pea
Tammy @ One More Time Events
Stacy @ Anastasia Vintage
Kim@ Hunt and Host
Tricia @ Suburban B*tches
Amy @ My Life From Home
Megan @ Hello Farmhouse
Tara @ Lehman Lane
Visit our hashtag #FarmhouseFriends on social media as well!