Hey everybody!
I want to let you all know that we now have a complete set for the Free Printable Snowflake Chalkboard Letters + Numbers!
That's right….I've updated the snowflake chalkboard letters to include the whole alphabet + numbers!
I made this Let-it-Snow banner and mentioned it's for a project that I'm working on with my children…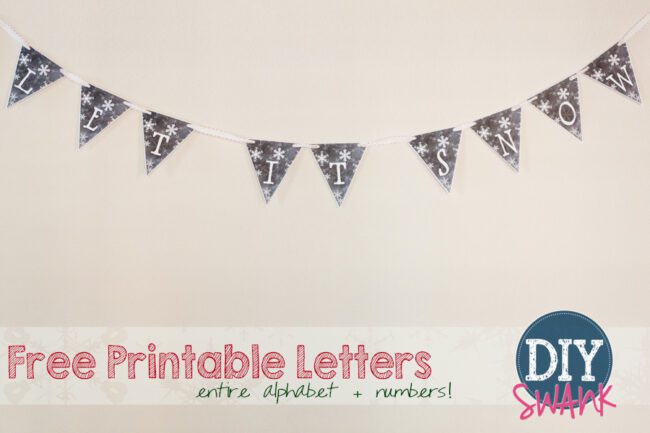 …well, I figured not everybody is going to want a let-it-snow banner and so I've made a whole set with numbers and a few extra snowflakes for you guys!
Now you can make a snowflake chalkboard banner for yourself with the words that your heart desires!  The thing I love about these letters is that you could really jazz them up with a fancy ribbon, or you can matte them on a bright Holiday color…the options are endless!  Or you can keep it plain and simple, like I did (I admit, I was just lazy)!
You'll find each individual letter below.  Have fun with them!
>>>Instructions for downloading and/or printing each letter<<<
For step by step instructions with pictures on how to assemble the letters to make a banner click here.
I love to see what people have made with these letters. You can post to the DIY Swank Facebook page or tag DIY Swank on Instagram and include #diyswankletters