Hey everyone!  I've got a super easy, inexpensive DIY decor idea that I want to share!   If you follow us on Instagram, then you may have seen the picture I posted a few weeks back when I made these.  It was such a fun little project, that I thought I'd post a quick tutorial on how I made them.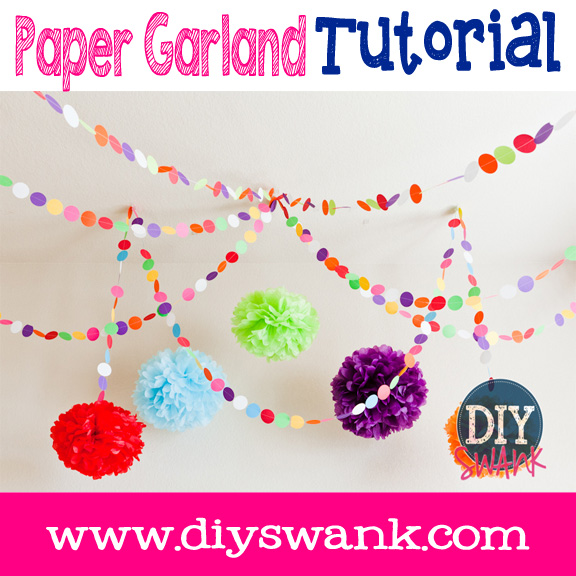 DIY paper garland is seriously the easiest thing I have made in my life and if you happen to have the supplies on hand (like we did) then it is a very last-minute thing that you can throw together to add a little punch to your party or holiday decor.  Have you ever made it?  It's so fun.  Not only to make but to look at, too.  You might be laughing at my excitement right now, but in all my thirty-something years on the planet, I had not made it until about a couple of weeks ago!  Probably because I'm not a party planning girl like Christen is 😉
A few weeks ago, Christen called me up and asked if I would help her with some decorations for a birthday party she was planning for her Mom.  Her budget didn't allow for extravagant decorations and she had this idea to make some DIY paper garland.  And since I love to create with a purpose, I was happy to help her out!  This paper garland was made with items that we had on hand between the 2 of us.  It took me about 10-15 minutes to cut the circles and about 5min to put them together.  No joke, no exaggeration, no kidding.  The hardest part was planning what colors and the pattern we wanted to use.
As I was making this paper garland…I got to thinking. It was a crafting ah-ha moment of sort for me, as silly as that sounds  *remember, I'm new to paper garland*  This could be used for so many things!  These would not only be great for parties, but holidays, baby showers or just because…use them on a mantle, in a doorway, on shelves…or at work for easy inexpensive holiday decorations.  You could make them small, or big, in circles, hearts or stars….heck, my girls want me to make some just for fun to use in their rooms.  It's a fun way to add some color and pizzaz.  Know what I mean?  That was my crafting ah-ha moment.  My eyes have been opened to the paper garland world. 😉
Here is how I put them together.
The items I used:
Sewing machine
Thread
Circle Paper Punch (we used a 2″ punch, but you can use any shape or size)
Card Stock
Paper Cutter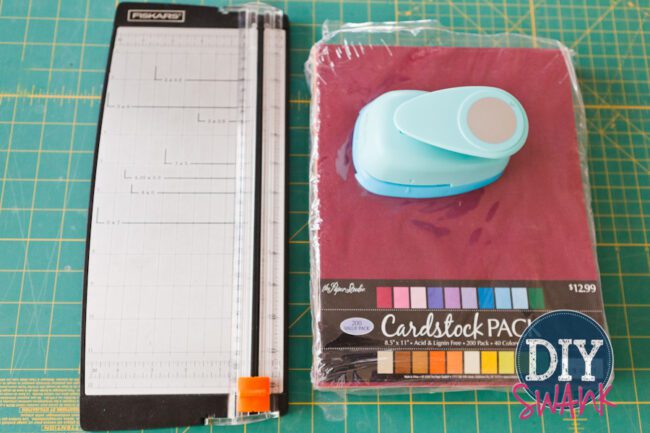 First I cut the card stock into strips.  I did this because I found it allowed for less paper waste.  I had a 2″ circle punch, so I cut the paper in 2.5″ to 2.75″ inch strips lengthwise.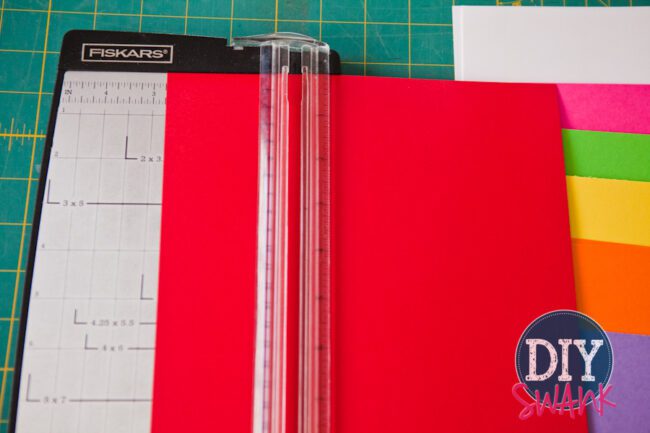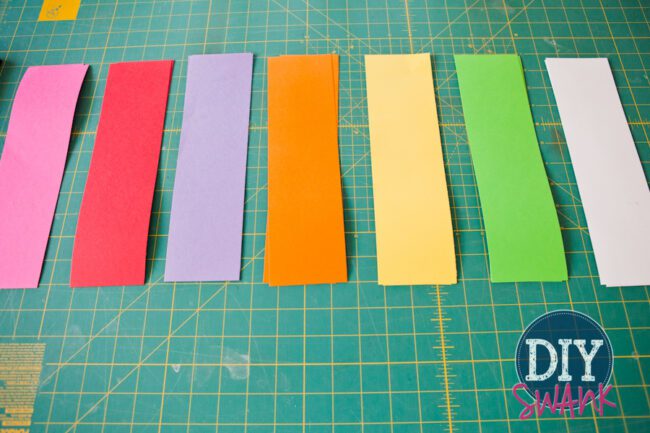 Then I punched my circles.  I was able to get five 2″ circles out of each strip.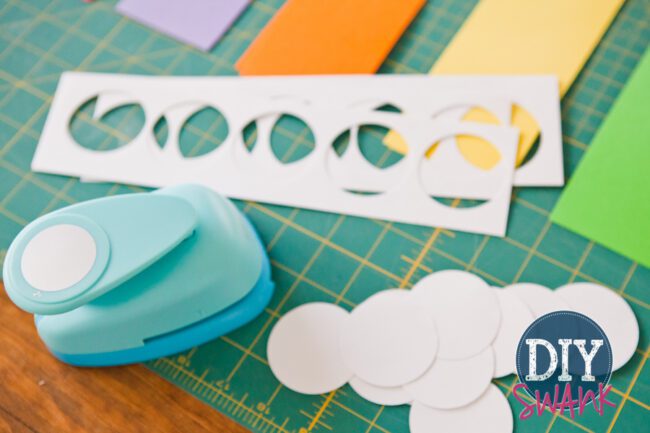 Once I had the circles cut, I lined them up in the order I was going to sew them together in.  I also made sure to have the same amount of circles in each pile to keep my pattern the same.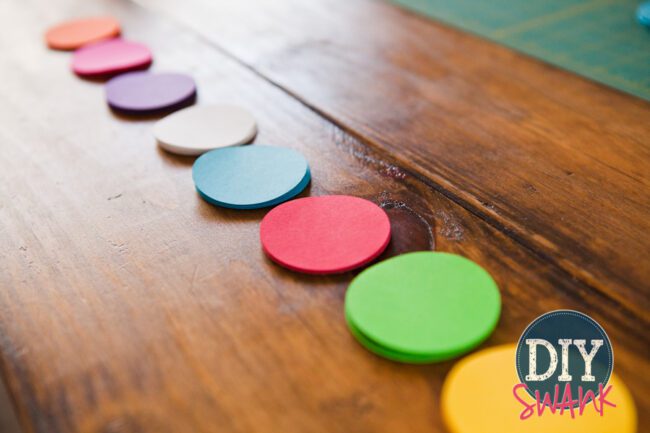 Next, I sewed them together.
I pulled about 10″ of extra thread first so I could hang them (you can always cut it shorter if it's too long).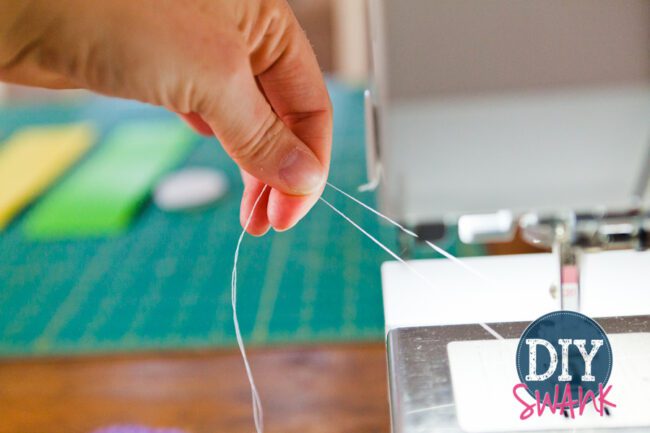 Then I started sewing!  I just eyed where the center was and spaced them about 1/4 – 1/2 inches apart.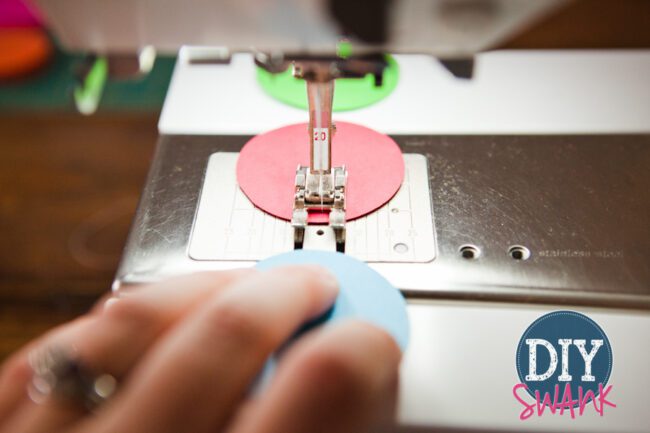 When I got to the end, I pulled another 10″ or so of thread before cutting it.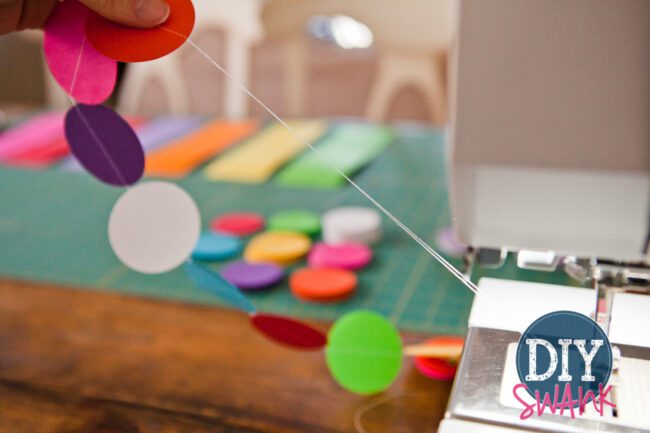 The one thing I will warn you about if you make these.  They tangle very easily.
So when I was done, I gently grabbed the pile that formed behind the sewing machine (it will be somewhat in an accordion)  and let it drop and spread it out into a line on the floor.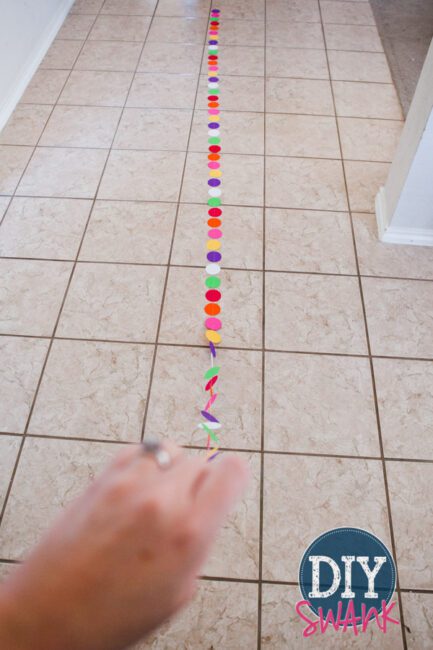 Then I folded it neatly into an accordion and put them in a plastic baggie until I needed to hang them.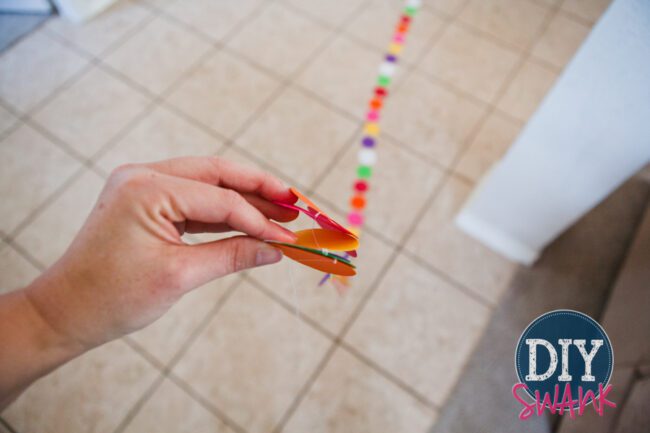 That's it! Done.  "Sew" simple, right?
This is how we used them.  Christen was looking for a pop of color and that is what she got!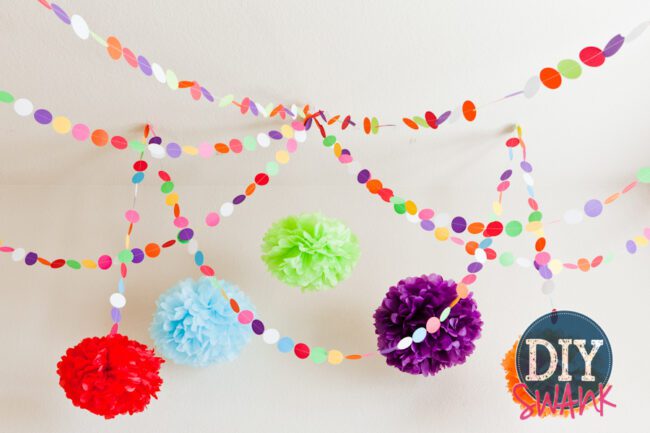 She also had the brilliant idea to use the clear 3M hooks on her ceiling to hang them.  We just draped the thread over the hook and tied a little loop on the ends.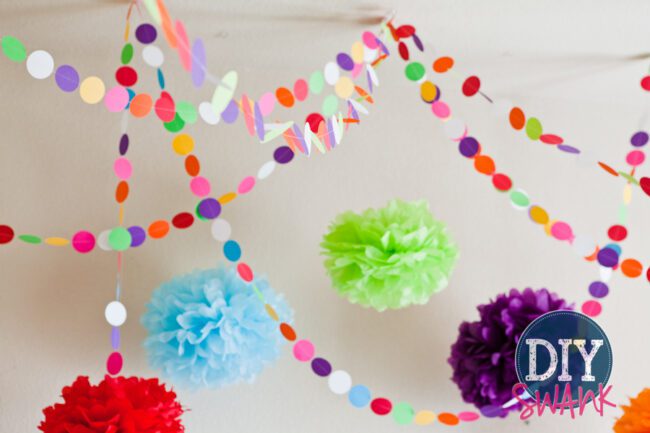 Worked perfectly!
Okay, so, I've said it before and I'll say it again.  I love, love, love how they turned out!
And you can't beat that this was a completely FREE decoration because we already had supplies on hand.