This is a little story of how we happened upon the DIY Furniture world.
My husband and I are DIYer's by nature.  Many years ago, with absolutely no experience what-so-ever,  we bought our first house and tore out the old nasty carpet before we moved in, with no real plan of how we were going to replace it.  I think back to those days, shake my head and shutter at the thought of our in-experience and the projects we took on and the things we did.  We really had no clue.  This was before they had blogs…we had a Home Depot book with tips on home improvement and thought that would be all we need.  That was it.  Wrong.
Oh, if I could go back and tell my-young-little-inexperienced-self then what I know now….
Fast forward about 10 years and now we are much more knowledgeable DIYer's and have collected *what I thought was* every tool in the book.  But, it wasn't until about a year ago that we got into furniture building…and it was ever Life. Changing for me.  It was at the time when we first moved to Texas that I discovered anawhite.com, which seemed kind-of ironic to me.  She's from a small town in Alaska and so am I, I actually lived about 70 miles away from her, but I didn't know who she was until I moved to Texas!  Crazy….Anyway, so being in a new land with no friends or house (we were in an apartment without our stuff at the time) I happened upon the furniture DIY world.
Life changing is an under statement.
Long story short, we ended up renting a house here in Texas (I am so excited because we just signed on the dotted line to start building a house) because ours did not sell in Alaska, so much to our dismay, our favorite hobby of DIY home improvement came to a screeching halt.
*Enter DIY furniture*  (I big, puffy heart it, by the way)
This, is where my love lies…I'll admit right now…I wasn't really into building the big deck on the back of our house, and I wasn't really into laying the tile floor in the kitchen of our old house, and I'll admit that shoveling pounds of rocks and dirt out to the back of a pick-up truck was not fun to me.  I did it because of the end result that I desired.  I wanted a nice big deck at half the price and the beautiful tile floors instead of linoleum, and I wanted to have a cute little walkway made of gravel because I couldn't afford to have concrete laid. (in Alaska that is really expensive, and it's not included in a new house package)  But with furniture building, it is nothing like the chore that home improvement DIY was for me.  I can build and paint and stain everyday and love it.  It provides the creative outlet that I never knew I wanted.  We have been furnishing our home with solid wood, custom furniture, handmade completely by us…ok, truth is, when I build with my husband he usually does all the building.  But let me just also say that, in the beginning he is all energetic and then once the piece is built, he's out.  But I'm okay with that, and that is why we make a great team.  There is something very therapeutic for me about the finishing process.
So, with that being said.  Here is our first two builds.  The classic Farmhouse Table.  We found the plans for this table on ana-white.com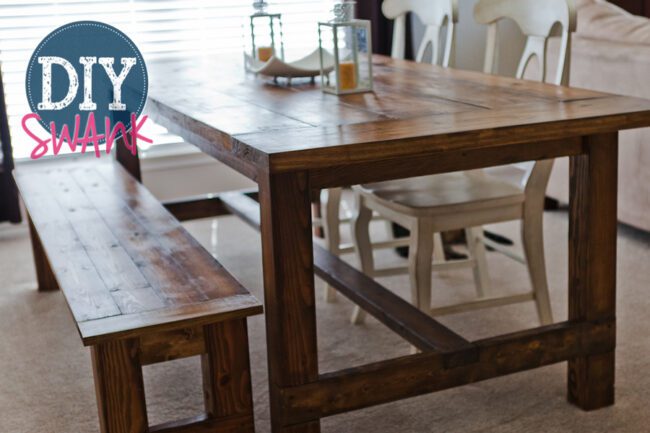 And the perfect pop-of-color Hutch to go with it.
Once I discovered Ana White, I discovered that (at the time) would be releasing a book also!  I love to have a book in hand, so I went out and bought the book.  This hutch came from Ana White's book The Handbuilt Home.  And I have no shame in saying that I copied, exactly, the Handmade Home's hutch.  After all, there is no better form of flattery, right?  It was perfect and there is no need to try and fix what ain't broken.  Know what I'm sayin'?!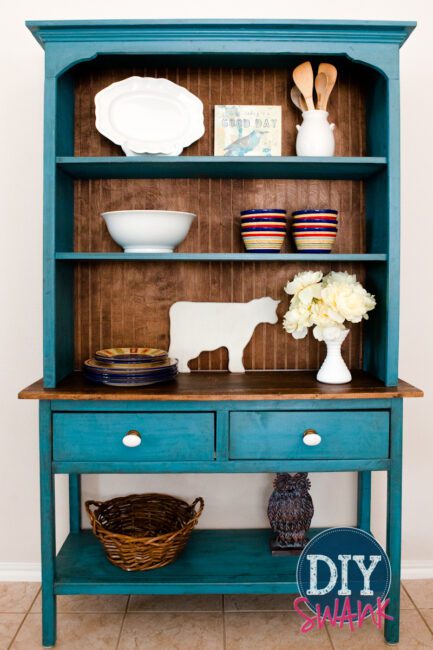 I love the furniture we've built!  It is so awesome when people come over and compliment my furniture and I get to tell them "We made that!"
 My advice to anybody who may be interested in building…just take the plunge and do it.  You will need to invest some money up front in tools if you don't have any, but it is so worth it!  You'll make mistakes along the way, but you will love it!  You will seriously impress yourself.  And it is so empowering when you step back and admire your newly built furniture (or friends admire it) and you can say "I built that."
Happy day!
-Megan