Happy Tuesday Friends!
I don't know about you, but Megan and I are ready for fall! Saturday our boys had a soccer game and it was soooo hot. However, Megan would say, "It's better than being cold!"  I think she agrees she's ready for a break from the good ole' Texas heat.
Last week we started working on our fall decor projects. The first thing we worked on were these easy DIY Fall Chevron wood block Letters!   And, guess what? We are sharing a set of FREE printables so you can duplicate these cute little things!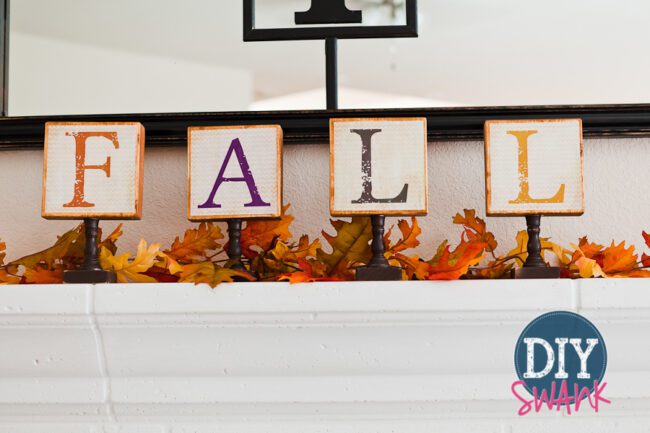 Here is what you will need for this project:
2x6x8 piece of lumber-check the scrap bins when buying these(you might find a perfect piece…cheap)
Mod Podge- We use the Antique Matte Finish
Paint/Foam Brush
Stain or Paint
FREE FALL PRINTABLE- Here is the Download Fall Chevron Letters
Optional (if you want to add the stands to your blocks):
1x3x6 – Optional(Remember: Look for scraps)
Stain or Paint
Wood Finals-Optional (These are the ones we used, you can get these from Hobby Lobby.)

Now…Here's how we put them together!
Measure and cut your 2×6 into 4 cuts at 5 and 1/4 inches.

Once you have all 4 pieces cut, sand each one to remove rough edges.

Now you will stain or paint the wood blocks. Megan used stain on hers but paint will look good too!

After your blocks have dried you will cut your letters out and Mod Podge them to the front of the blocks.
(If you would like for your blocks to have a rustic feel you can sand the blocks some on the edges before applying your letters.)
Apply the Mod Podge to the block and place the letters on top. *Tip: before adding Mod Podge to the top of your letter let the bottom dry . If the paper gets too wet it can cause bubbles and creases.
If you want to add the stands to your blocks you can cut the 1×3's into squares(cut size to your liking). Hot glue or Gorilla Glue the wood finals and 1×3 to your block. That's it! Super easy!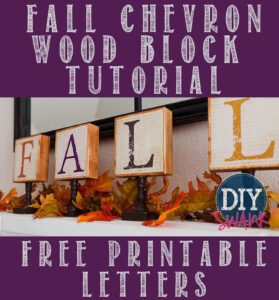 Megan and I will be sharing more of our Fall DIY Projects over the next couple of weeks. So stay tuned…
If you haven't already done so please be sure to connect with us on Facebook, Instagram, Pinterest and Twitter!