Ready or not, Christmas is next week! I'm kind of ready, kind of. I am sharing with you how Santa made Christmas morning (last year) a little adventure for my kids with a Santa gift scavenger hunt.
Yes, Santa sent my kids on a scavenger hunt to find their presents. My older two are at the age where they really don't believe in Santa. They know the drill, you have to believe to receive. They really didn't have a long list of gift this year and I was racking my brain on what to get them for Christmas from Santa. I wanted to do something a little different to really get them excited about Christmas morning.
So here is how it went-Santa and I are good friends so I had a little talk with him last year. I told him not to bring the kids any junk they didn't need and to bring cash! He looked at me like I was crazy. Santa didn't want his elves to get arrested for making counterfeit money! Apparently its not something they make in Santa's workshop. Who knew? I made a deal with him. I will leave out a stack of $1 bills and you do the work. He agreed!
Heres what you will need for a successful Santa Gift Scavenger Hunt:
Small Gift boxes(1 for each child)
String or ribbon to tie on the tags to the gift boxes
Paper to print clues & tags (You can download below)
Small or letter size envelopes for each clue. You could use the small gift boxes as well.
Tape or Glue to attach clues to envelopes
Cardboard box-if doing the Money Scavenger Hunt
$1 bills- if doing the Money Scavenger Hunt
Wrapping Paper- use something special your kids will think is from Santa 😉
~Here is how it went down~
Santa put a small box under the tree for each kiddo.
This is what the box looked like to give you an idea. Santa got one for each kid at the Dollar Tree.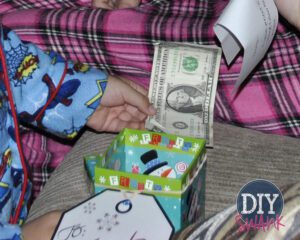 I wish I had more pictures to share with you of the box but I was almost 9 months pregnant and it was before I started this blog! I will be sure to get good pictures this year 🙂
The boxes had a tag that had each kids name on it from Santa.
I've made a blank tag you  Santa can download and hand write the name on each tag to personalize it for each kiddo.
Click Here to Download the Blank Tag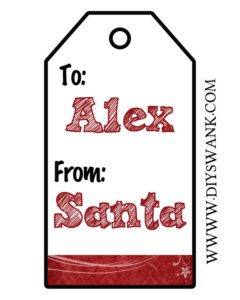 Here is what was in the box:  
A note that read -A special present is yours to find, jump up now! Move your behind! Yes it's the truth….don't think I'm a liar…to find your first clue, go to the ____ (dryer)
Santa also put a dollar in the box. There was a dollar in every clue box.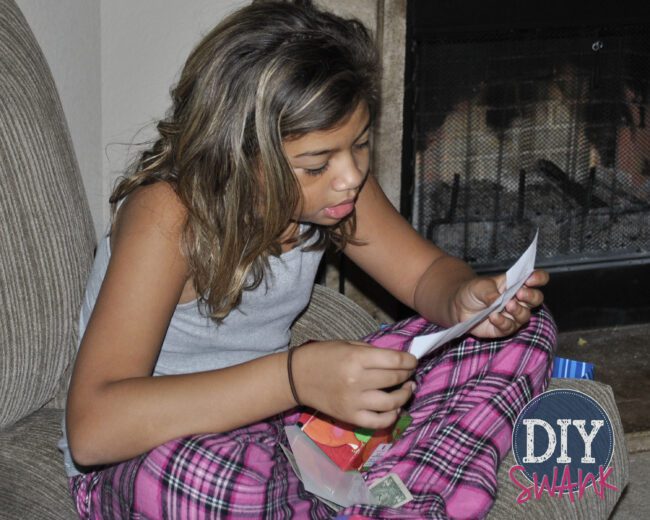 My kids are not morning people and it took them a minute to realize what was going on. Once they realized they had to go find their presents the excitement in the house turned up 10 notches!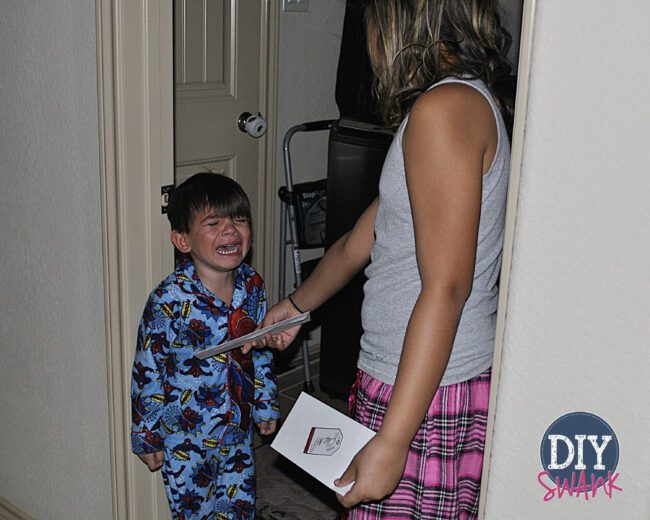 and we even had a melt down!  He was not happy he didn't find the first clue.
Next Santa put each clue in an envelope (like the above picture) hidden in the around the house based on the answers to the clues. The first clue (answer: dryer) thats in the box will start the scavenger and will follow the clues below.
Here's the clues:
Clue #1 When you're feeling less than fresh there's just one place to go…to wash and get all squeaky clean and scrub between each toe. (Shower)
Clue #2 This box outside is mostly filled with things that rarely bring you glee like bills, and junk, and other stuff you'd rather never see. (Mailbox)
Clue #3 This hunt I hope your lovin…now find your next clue…its right in the ____ (Oven)
Clue #4 The head of house retires here to get some peace and rest. Of all the rooms within the home the master's room is best (Parent's Room)
Clue #5 When couples are well-organized they park the car in here. But otherwise it's full of junk and not one inch is clear. (Garage)
Click Here to Download the Clues
They are in word format so you can edit them if needed!
These are the tags for the clue envelopes. Santa can print them out and tape or glue to each envelope.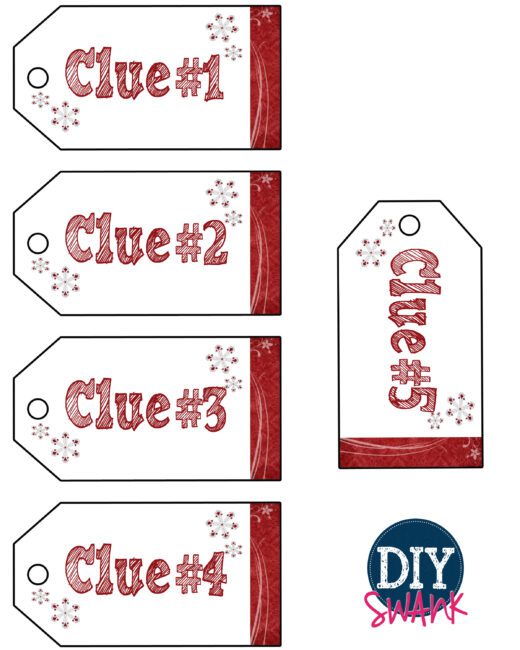 Click Here to Download the Clue Tags in Jpeg Format
Click Here to Download the Clue Tags in PDF Format
Step #:
Now here is where the $1 bills came into play. Santa put 100 of them in each box for the two big kids. The little guy wanted a pirate ship but he still got $25 so he didn't feel left out.
Santa took a cardboard box and cut the top off of it. He put the 100 $1 bills in the box and then wrapped the box in wrapping paper. On the top where where the box top was cut open he put a sign that read "Punch here". Then he put them in garage so that they found them after reading the last clue.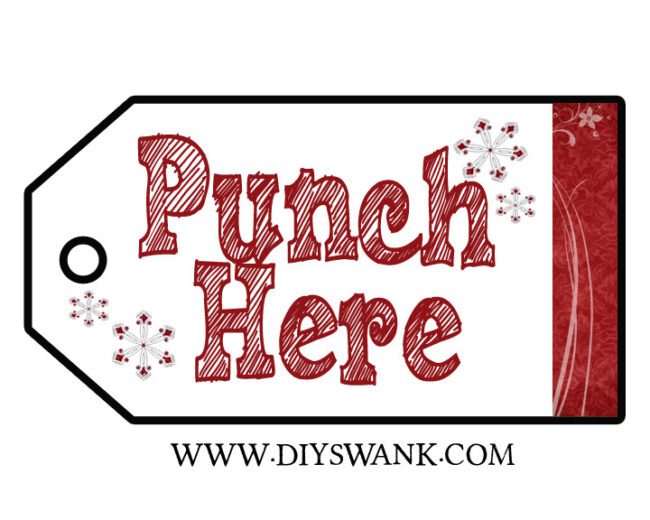 Click Here to Download the Punch Here Tag
They punched opened their boxes and were so excited. We all had fun and it really made for a fun Christmas morning! (Excuse my messy garage)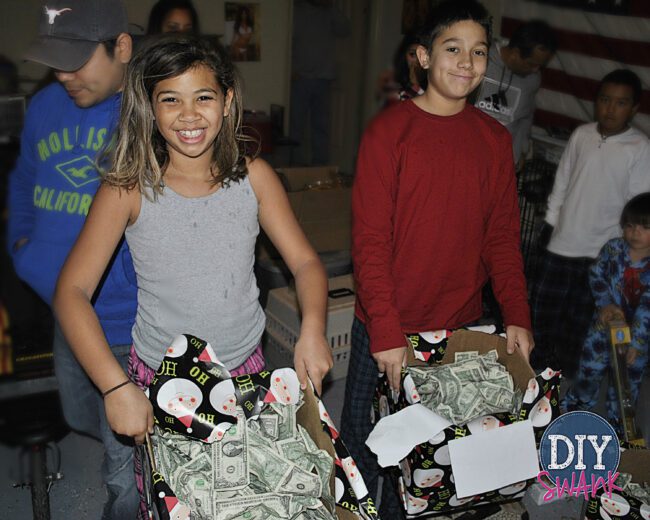 They spent the next couple of hours counting their money! It was such a hit last year my daughter said, "I hope Santa does the money scavenger hunt again."
I guess we will see what the big Jolly guy has up his sleeve this year! 😉