Hey everyone!  We want to share this cool DIY Pottery Barn inspired trunk  that we both worked on together.  Yes, we each built one.  Not only did it turn out awesome…but we had a lot of fun and learned a lot making it, too!  What's better than a little social time, while gettin' in a little DIY project time, while the little ones get in some playin' time.  Mom multi-tasking at it's finest!
So, here's the story.
We got to talking one day and realized that we both needed to remedy a horrendous kid junk problem in our family rooms.  In the search to find a solution,  we happened upon this beautiful Pottery Barn trunk, it seemed like a perfect solution to both of us.  We could use a big ole wood trunk  that we could throw junk in, close the lid and walk away pretending  like that junk doesn't exist!  Know what I'm saying?
This is the trunk we found.  The Rebecca Trunk from Pottery Barn.  Perfect, right?  Beautiful.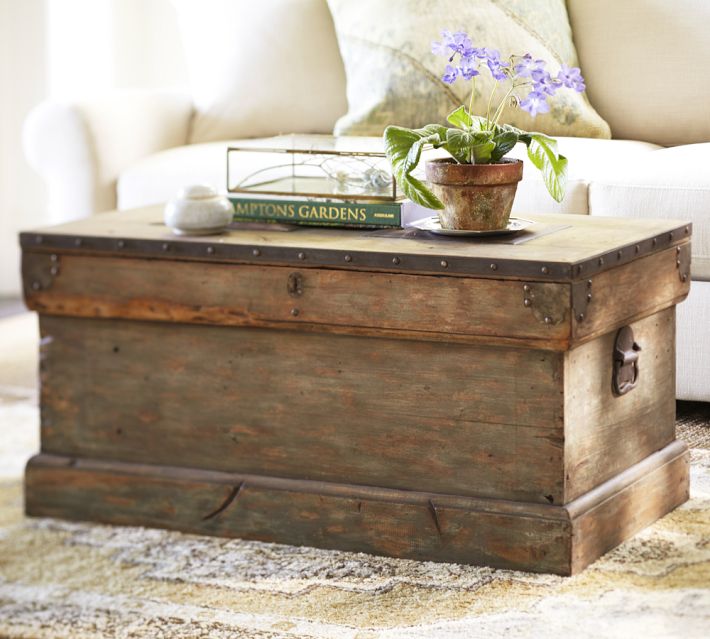 Well, this beauty will set you back about $599.00 buck-a-roos….not so perfect.  Spending that much money, on what is really just a big wooden box, wasn't an option for either of us!  So we started brainstorming…
 It's a great thing that in this day and age we have handy dandy google…and pinterest.  It feeds the natural DIYer's in all of us.  We came across this plan to build a trunk from Ana White, and it just so happened to be inspired by the same trunk we found.  Score!
 We each built one, but this is a picture of mine.  And I just gotta say that I love how it turned out!  I especially love that a person can admire it on the outside and have no idea what's on the inside.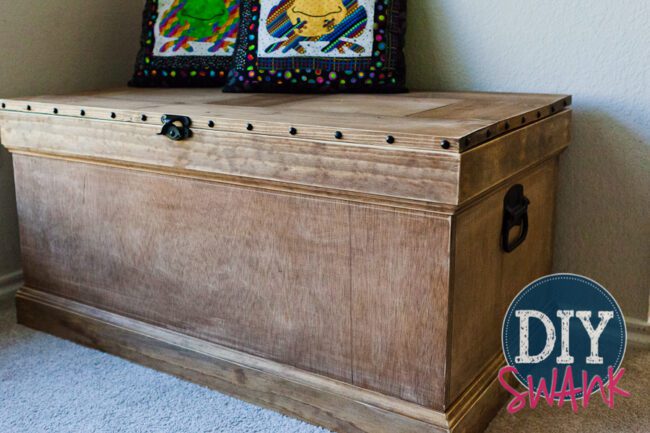 I'm really happy with the finish…it kinda reminds me of some old worn out brown leather boots.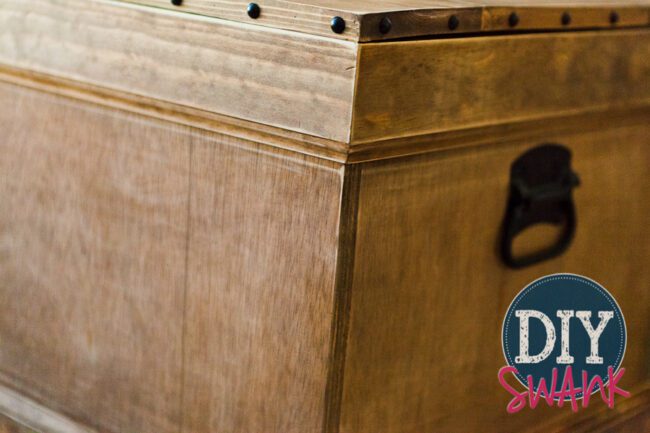 It definitely serves it's purpose well.  I can't tell you the exact amount we spent to build this but I would say it was in the $75-100ish range for all supplies not including tools.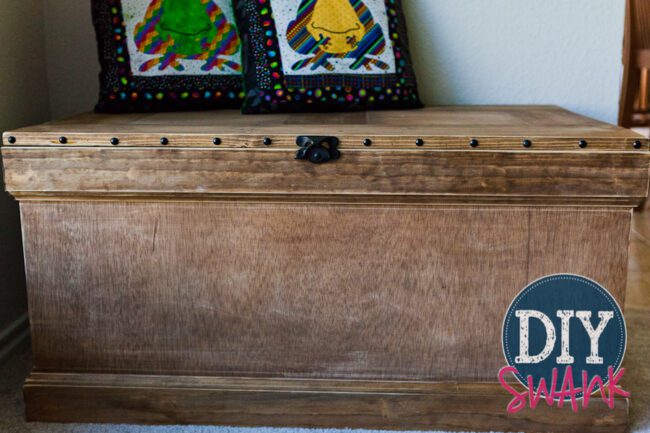 That's the kind of deal we love!
-Megan and Christen