This DIY chemical free floor cleaner has become my favorite cleaning solution!   I love to use this duo in the battle against the dirty, sticky floors that plague my life everyday.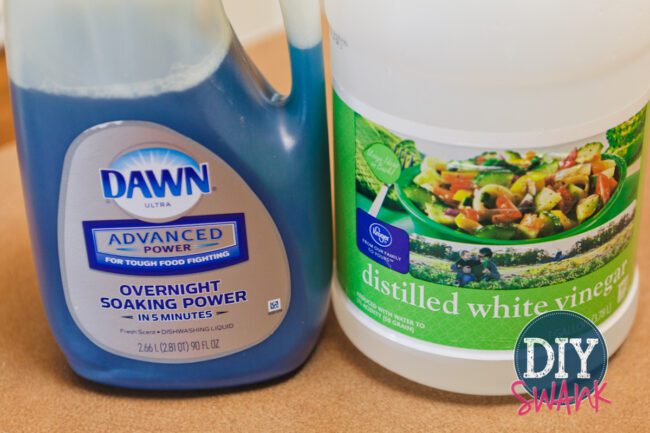 Let me start by saying that about 4 years ago, my eyes were opened to the whole "living a more organic, chemical free life" concept, mainly with the food that my family eats.  You know, taking it back to the olden days when life was simpler.  It's quite a process and doesn't just happen overnight, it has taken me years to incorporate natural living concepts into my home.
Well, I'm a clean freak by nature.  I wouldn't call myself a germ-o-phobe, but having a clean, clutter free environment is really important to me.  So, the thought of giving up my chemical cleaners – oh, how I love you bleach – didn't seem like an option for me.  I had heard of vinegar for cleaning, but thought that was just gross so I ignored the "green cleaning" part of living a natural life.
But, then came Pinterest. *Yes, I'm addicted and I stand firm in my argument that I'm better off because of it*  Just about everyday I see pins about homemade cleaning solutions.  I ignored them for a while, but my curiosity was sparked when I saw a recipe for a floor cleaning solution…it said I would have clean, streak free floors and my house would smell great.
Awesome!  Just what I needed, since about half of my house is tile flooring.  Only problem was it had vinegar.  I had such a hard time buying into using vinegar as a disinfectant…it's so stinky and it has been pounded into my brain that you must use chemicals to clean!  So, I did what I always do, got on google and started researching and found that the acidity in the vinegar kills off most common household bacteria, but of course, it's not as strong as chemical cleaners.
Back to the Pinterest floor cleaning recipe…4 simple household ingredients.  Dawn dish soap, baking soda, vinegar and water.  So, I gave it a whirl since I had all the ingredients.  I tried this recipe a few different times only to find that I would end up with very streaky floors.  So, I did more research.  I am by no means a scientist, but I think the idea behind using baking soda and vinegar is they are both natural disinfectants, but in my research I found that vinegar is, in fact, better at disinfecting than baking soda.  So…I tried removing the baking soda out of the recipe….and let me tell ya, my floors turn out shiny, smooth and clean and streak free!  I've been using this solution for about 8 months now and I'm happy every. single. time.  The smell isn't the best, but it's not so bad either.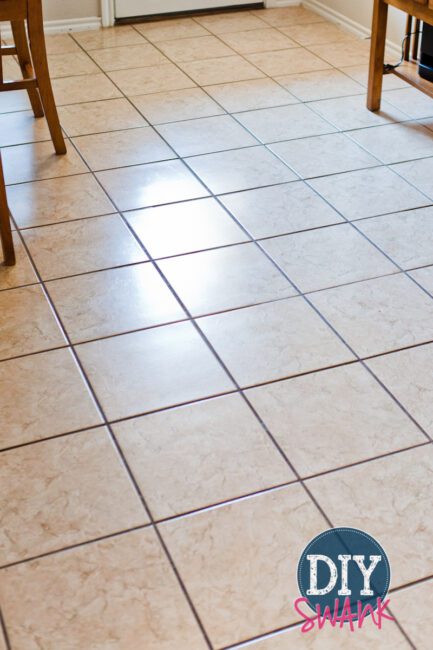 How I clean my tile floors:
1 gallon boiling water
2 gallons hot tap water
1 1/2 Tablespoons Dawn Dishwashing Soap
1 1/2 cups vinegar
Mix together in a bucket and mop!  Change the water out if it starts to get dingy.  You will start to get streaks with really dirty water.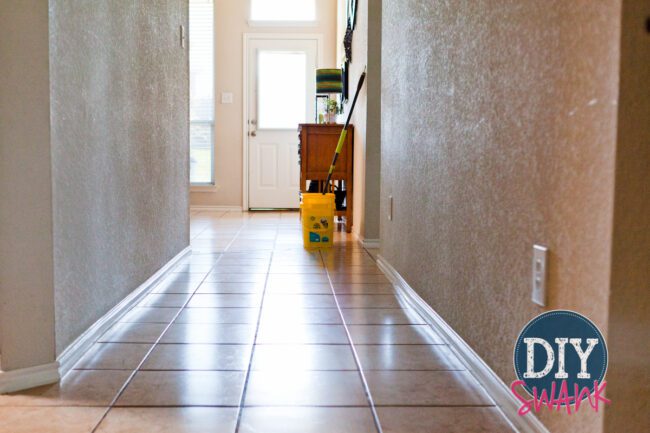 In this house, I have to mop the floors at least once a week, so I've had lots of chances to try it out and even my chemical-cleaning-love, Bleach,  doesn't give me the streak free floors I lust after like this chemical free solution.  I don't know how this would work on other types of floors, but for porcelain tile it is a sure winner!  It may not disinfect the same as the chemicals, but for now, I feel a whole lot better about these little feet running around on chemical free floors!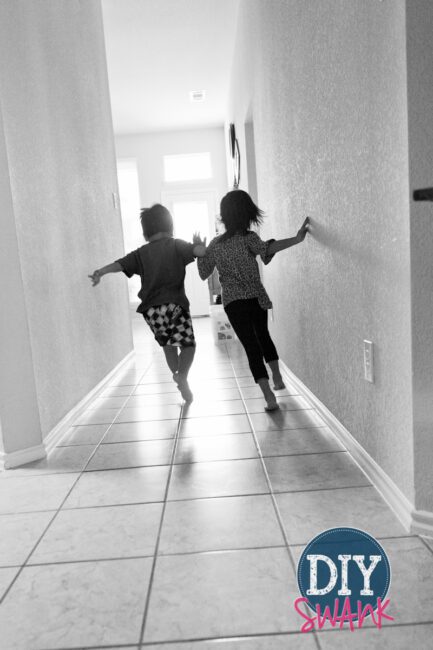 And that, my friends, is why I'd say my argument that Pinterest has improved my life is valid.
-Megan